I know that feeling pretty well you're looking through your wardrobe and that feeling of guilt and shame comes across you like a wave every single day, that there is nothing in there that you like or want to wear or it doesn't even represent who you are anymore.
I have been there myself and I think now is a perfect time more than ever to really tap into who you want to be and how you want to dress and I'm not talking about how you want to dress so other people think you look good.
It's not about that at all, you've got to feel happy within yourself first before you can put that outer layer on to make you feel even more badass.
I know you're probably sat there thinking well yeah it's easier said than done but it really is.
I'm on a mission with Born to Thread to spread this message even more so grab a cuppa and read my 5 steps to feel confident in clothing below.
Step 1.
Start with your mindset really tap into how you want to feel and say that to yourself multiple times a day, even write it down. Man, even wright it in red lipstick on the mirror so you see it every morning when you get up. You need to be saying nice things to yourself every day if you want to start loving yourself.
I'm not kidding, the more you do this the more you can open up and really embrace who you want to be and feel more confident in your clothing. 
Step 2.
Start journaling your feelings down the more you get this out of the head and down onto paper the more it frees up space. Start sketching ideas of outfits or a capsule wardrobe really home into a style you love.
Or if you are not into sketching, Pinterest ( if you're not already on it ) can be amazing for this because it helps give you some inspiration and you can pin to boards to get a real sense of style through them.
From this you can then create a vision board the more creative you can be and see it visually every day the more you are going to feel empowered to be that confident version of yourself.
Step 3.
De-clutter! Yep get rid of those outfits that are no longer serving you, get some organisation in your life. Go Marie Kondo on yo ass! Head to Netflix if you've not watched her yet! Apparently, charity shops had a surge of people donating in 2019 after watching the series.
I am so guilty for hoarding and holding onto outfits that maybe I'll wear again or maybe I'll fit into again but do we really ever?
Nop that my friends is what's called a lack mindset and is what's holding you back from being your true self and moving forwards.
Now go declutter!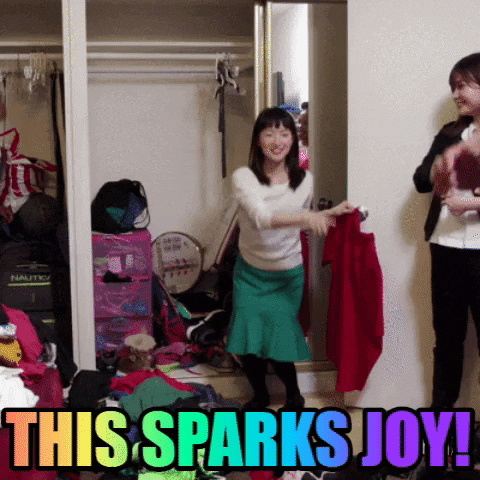 Step 4.
Now that we have done all the steps above and by no means, I know it's not an overnight change but if you really want it – you will make it happen.
I know this because it has taken me a hella time to become really comfortable in my own skin and really feel confident in my clothing. Yes even me who can make clothes.
It's still an ongoing change because we constantly evolve as humans and you've got to not be scared to do so.
Reprogram those old beliefs, step out of your comfort zone.
Step 5.
The killer outfit
Do you know why this is called the killer outfit because you have done all the groundwork to make it a killer outfit, you are oozing confidence so, therefore, it shines out of the clothing that you are wearing.
Felling good in clothing is a big thing, I don't care what anyone says it's part of our identity. You've got to embrace your style.
I think there is so much pressure for people to fit in and look a certain way.
You should be wearing this or you should be wearing that. Oh, you're into that music so therefore you should dress like this! I say: No not at all don't conform.
I want you to be your badass Luxe Rebel self.
So thanks for stopping by my amazing Ted Talk… I want you to start actioning step 1 and really see how you start to feel after being so nice to yourself every day for a week.
I'm guessing a hella lot better.
This is how I work with you through my custom leather service, pulling out your personality into a completely unique piece that lasts a lifetime.
I mean tell me what's more a better feeling than feeling good in what you wear especially when it has been handmade just for you.
If you are interested in my custom service then you can read more about it here